Publishing high-volume content is one of the most effective ways to build your authority and reputation.
Whether you are an author creating an e-book or a business looking to publish a special report, evidence proves that readers want long-form content: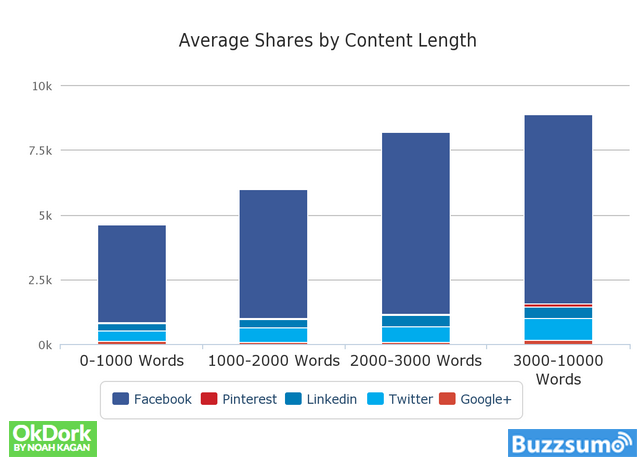 (Source: Buzzsumo.com/Okdork.com)
This graph from a joint study between OkDork and Buzzsumo reveals that higher volume content gains the most shares on social media. It shows readers are more engaged with lengthy, thoughtful articles that delve deeply into a given subject.
What it does not mean is that you can waffle your way to 10,000 words and hope for the best. It means lengthy content tends to be more authoritative and demonstrates a deeper level of expertise.
Whether you're thinking of creating an e-book or any other form of high-volume content, you need software that does three things:
Make it easy for you to write: Any publishing software should do the basics right. If you have any kind of difficulty writing your content, then it's not for you.
Ability to add graphics: No-one wants to read a wall of text. You need to be able to easily add images or graphics to make your content more engaging.
Integrate with other programs: When it comes to the moment of publishing, you should expect a seamless process.
Without any further ado, let's take a look at the best publishing software for high-volume content. Please note they are not in any particular order, each has its own strengths and weaknesses to help you choose the best option for your project:
Pressbooks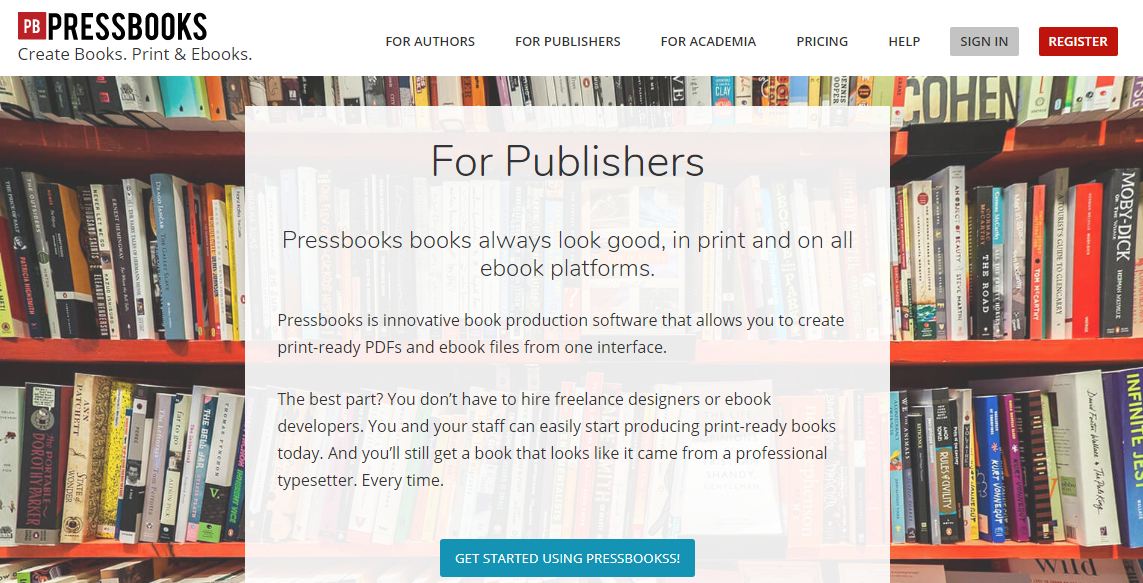 (Source: Pressbooks.com)
If you're already familiar with WordPress, then you shouldn't have any problems working out how to use Pressbooks. Though it has a very similar layout to the world's biggest blogging platform, Pressbooks is a different site.
It has all the features you need including the ability to add chapters, edit sections, and insert images.
Positives:
Familiar layout: Many of us will have some experience with WordPress, so the familiar layout will enable you to dive straight in.
Features: This is a site designed with e-book creators in mind, so it will have all the features you need. Even if you're creating a report rather than an e-book.
Price: You can access this tool for free. More advanced packages start from a one-off payment of $19.99.
Negatives:
Formatting: Despite being a different organization, Pressbooks still has the same formatting issues as WordPress. Though individually relatively minor, put together it can make creating an e-book a frustrating experience.
Watermark: The free package insists putting the Pressbooks watermark on any published piece. This can be avoided by upgrading to a paid package,
LucidPress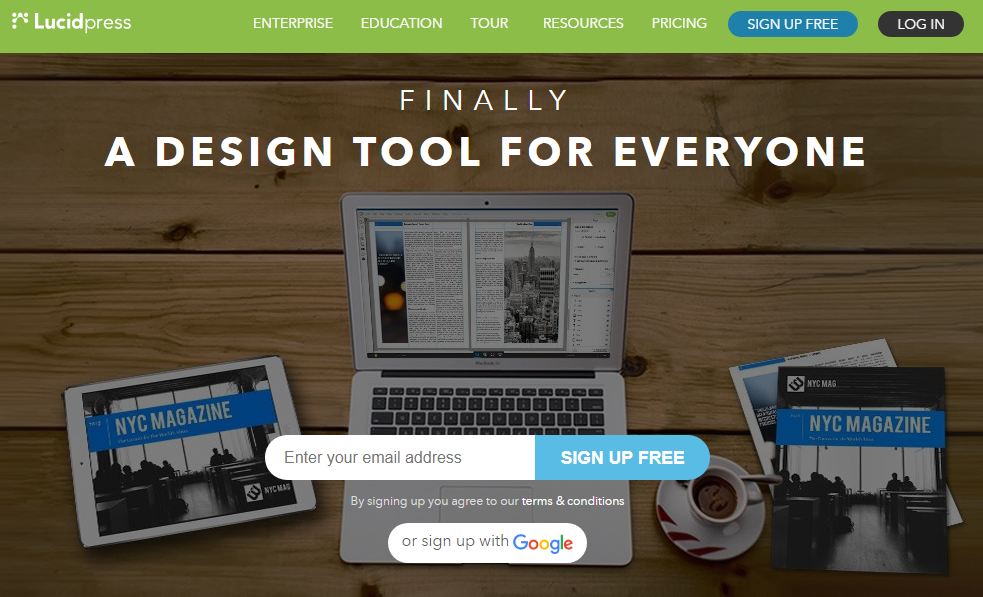 (Source: Lucidpress.com)
The appeal of Lucidpress is the wide range of formats it supports. You will be able to create high-volume content that's viewable in any kind of device, whether it's supported by Windows or Apple. Following a different design to Pressbooks, the platform is easy enough to understand and work with. Lucidpress is routinely rated as one of the top five for publishing long-form content.
One tip to utilize Lucidpress is to avoid using its very limited free package. Paid plans start at just $5.95 a month, and you will be able to fully understand what the platform offers.
Positives:
Suitable for all e-book formats: While most publishing software can cater to many e-book formats, few can cover all of them. Lucidpress can.
Affordable price plans: The pricing structure is reasonable and good value considering all the features you can enjoy.
Multiple formats for writing: This gives you complete freedom over design and content creation.
Sell direct from the platform: If you're looking to sell your high-volume content, you can do directly from Lucidpress.
Negatives:
Inability to download to your computer: You will not be able to download your document from the platform. This means you will always need an internet connection to access your work.
Limited support: There isn't much in the way of support or helpful contacts in case things go wrong.
IBooks Author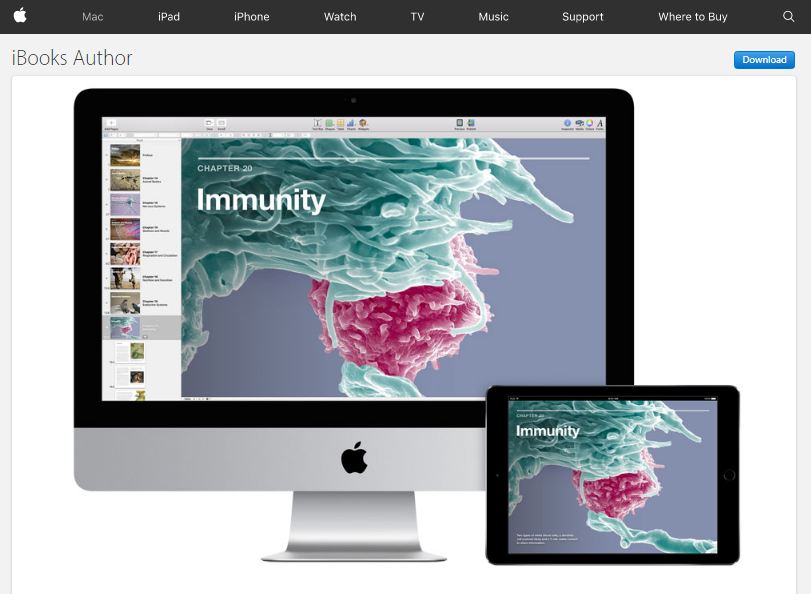 (Source: Apple.com)
Apple's iBooks Author is just what you expect from the technology giant. Clean, crisp, and easy to use. Designed for both personal and professional users, this software encompasses multiple formats. You can create e-books, photo albums, or digital magazines.
Whatever the purpose, you can customize existing templates to create documents that fit your requirements or brand. This is free for Apple users.
Positives:
Easily navigable: Apple's brand is founded on smart design. So it's no surprise to find the user interface here is seamless and easy to use.
High level of customization: You have the freedom to create the documents you want, in your style. The customization features are up there with the best platforms.
Unique features: There are features on here that cannot be found on any comparative software. Again, these small touches can make all the difference to the finished e-book or article.
Negatives:
Exclusively for MacBook users: If you haven't converted to the Apple brand then you will not be able to use this software.
Can run slowly at times: We didn't experience this ourselves, but this program has been reported to run slowly at times.
Atavist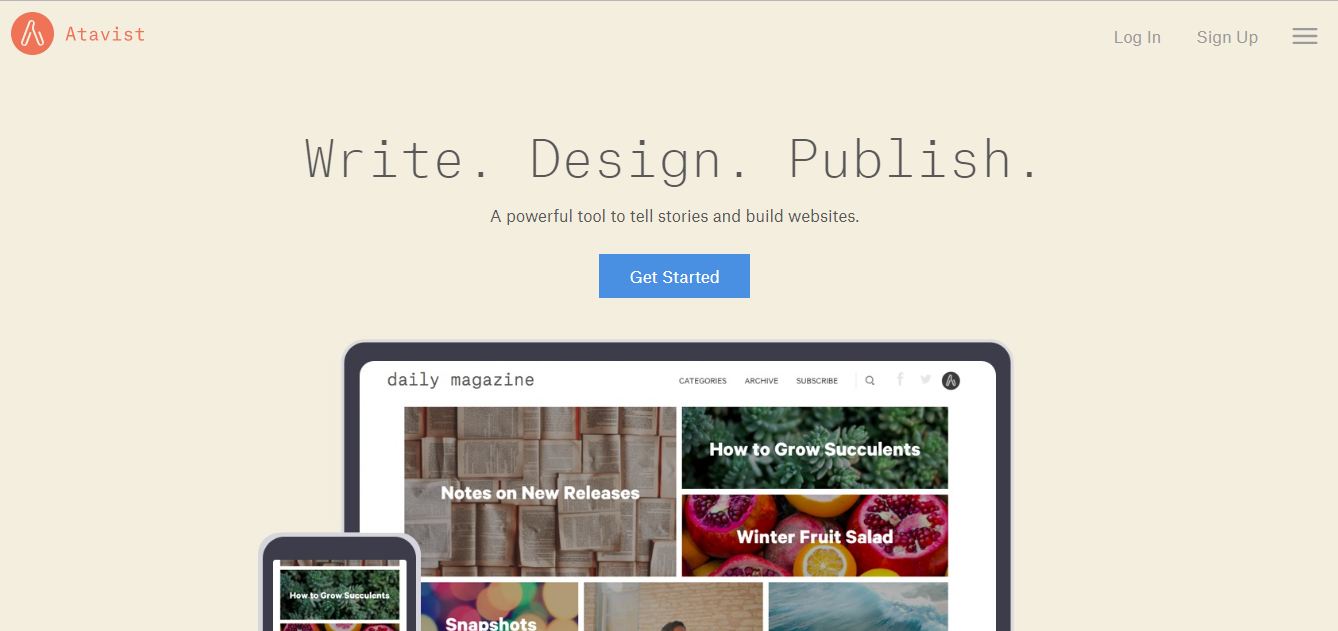 (Source: Atavist.com)
If you're looking for a complete publishing platform, then this is it. Atavist was founded in 2009 and has been adding features ever since. As a result, it's widely regarded as one of the best publishing platforms out there.
Atavist gives you the ability to format and structure your e-book in a number of different ways. The software's inherent flexibility means you can really make the document your own and implement your branding. It also integrates with a number of other tools which boosts its functionality even further.
Positives:
Wide range of functions: This is essentially a one-stop shop for creating high-volume content. By integrating with other tools and platforms, the user will enjoy a huge array of functions to choose from.
Create your own website: One of the features that sets Atavist apart from its competitors is the ability to set up your own website. This will give you greater control over the promotion and distribution of your content.
Use any media: The ability to add any type media to your content enables you to make your work more engaging. Articles with images and videos have been proven to be more appealing to readers than text alone.
Negatives:
Overwhelming: It's hard to find faults with Atavist. The huge array of features can make it a little overwhelming for users and it can take time to make the most of the platform.
Scrivener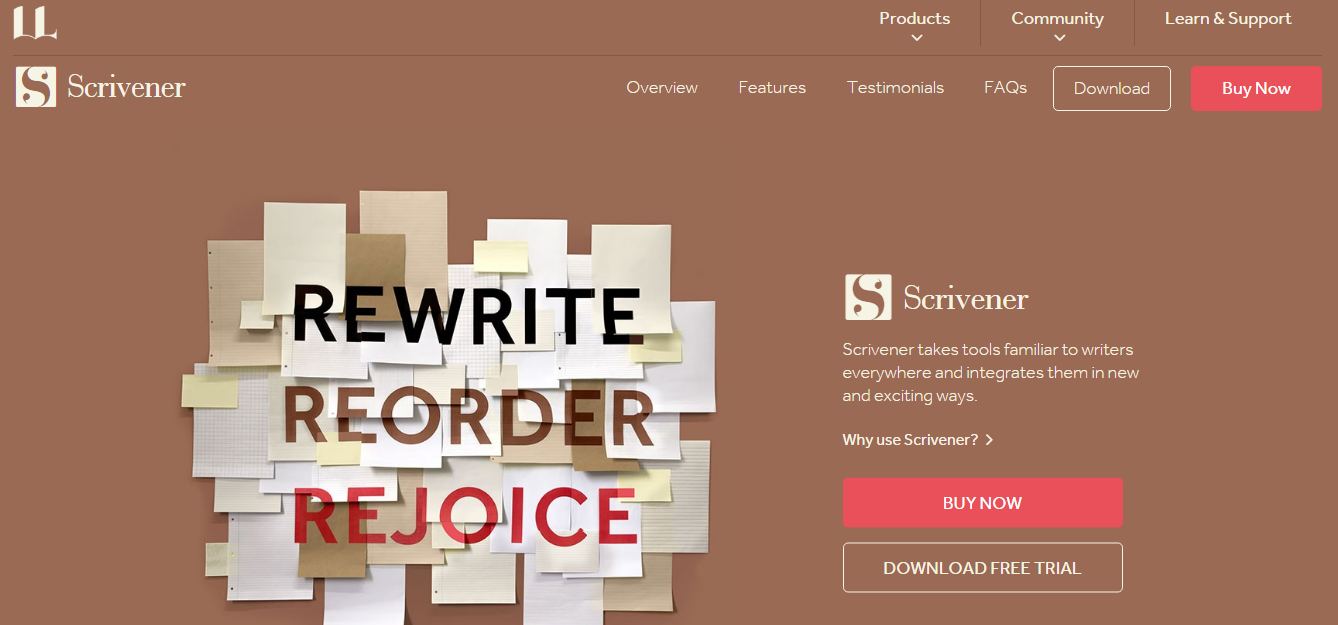 (Source: Literatetureandlatte.com)
Scrivener is the tool for more serious writers. The well-organized interface means the user can jump straight to the features they need. While it is geared towards MacBooks, Scrivener is making efforts to be compatible with Windows.
The software is moving towards the creative trend for e-books, with features that enable you to add videos and images. Additionally, you can translate your work into several languages, including Spanish and French.
Positives:
Not just for e-books: This isn't exclusively designed for novel writers. If you're looking to create a training or professional document, Scrivener can help you with this. The "Ring-Binder" feature is one such example.
Apple standard support: As an official Apple app, support is never far away.
Multitude of formats: Scrivener supports all the major formats e-book writers use, including HTML, PDF, and MOBI.
Negatives:
Geared towards Apple: Though steps are being taken to widen Scrivener's capabilities with Windows, this is still focused on MacBook users.
Competition with iBook Author: At $19.99, you would have to consider whether the added features are worth purchasing, compared to the free iBook Author.
A Final Thought
These are just some of the high-volume content software options that have emerged over the last decade. There's no doubt that these options are among the best. When picking the right one for you, ensure you take the time to play around with the free trial offers.
This will give you a taste of what each platform brings to the table. One might be better at creating great photo albums but not so good for your novel, for example. The overall aim is to find the software that's easy to use and makes your final product look as good as it can.
The two usually go hand-in-hand because then you can just focus on what you do best. Creating high-quality, engaging content.