Starting a new novel is hard. Any tools that can make the writing process a little more manageable are blessings, enabling you to increase productivity and spend more time focusing on quality than just "getting words on the page." Many apps and word-processors claim to make the development of your creative writing easier. But which are the best? In this guide, we give a rundown of the best software for writing productivity, planning, originality, and flow. Become the author you always wanted to be with a little help from your friends at
EditionGuard
. Here's a summary of the
8 best apps to help you write your novel
: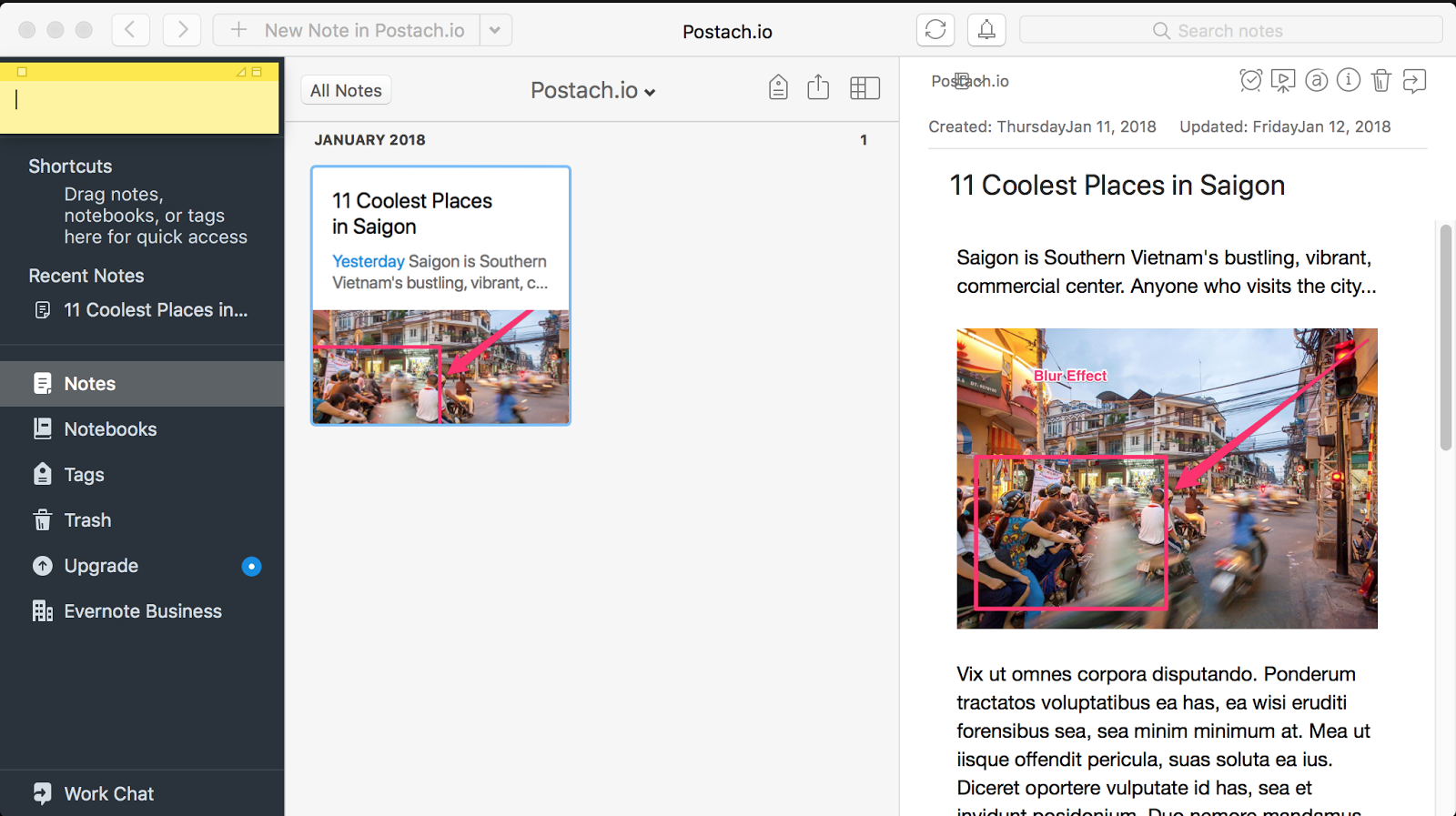 (Source: Author screenshot)
Price:
Free (basic) or $3.99/$5.99 per month (premium packages)
OS:
MacOS and Windows Evernote is much more than a note-taking app. It is a digital brain. Any authors who find themselves scribbling notes or collecting media in different documents will find Evernote's research tools extremely handy. They allow you to capture almost any kind of information and save it in your notebook. Digitize paper notes and save images with the Evernote camera, use
Web Clipper
 to clip and save screenshots in various formats, record audio clips and transcribe them within the same document. Evernote users are often vocal about it's clean and simple interface, which is too an asset for novelists who want to draft their prose without disturbance, before they transfer it to an app like
Scrivener
 for rewriting, editing, and formatting.
Benefits
Simple interface enables you to draft without distraction
Collect all your research in one place
Digitize paper notes and doodles
Powerful mobile interface for field research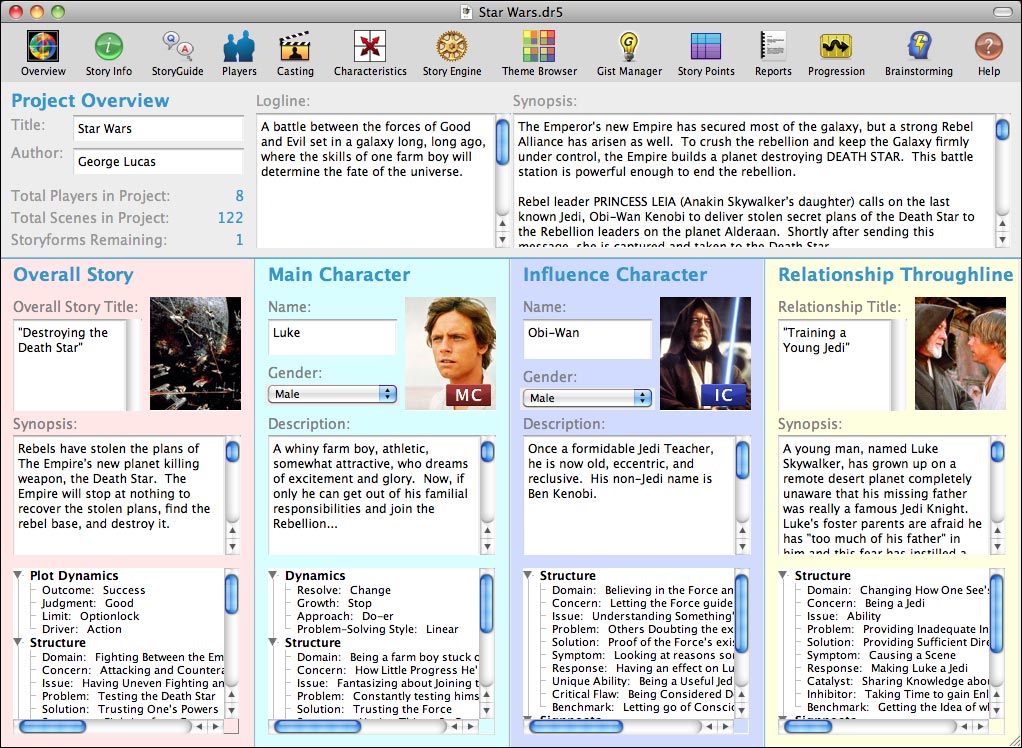 (Source: www.screenplay.com)
Price:
 $159.00
OS:
 MacOS Character development is one of the most critical parts of your story to get right, especially if you are crafting whole worlds. Fantasy novelists dealing with several complex characters can often be seen using the same techniques as screenplay writers to create sophisticated project overviews, character notes, and plot lines. The concept behind
Dramatica
 is that every complete story should reflect the "mind's problem-solving process." For each storyline, you must justify the actions and happenings of your characters to the reader with absolute consistency. Dramatica allows you to track narratives individual to each character and establish core milestones and concepts around which the rest of your content revolves. It eliminates illogical pivots in your story arc that confuse and put off readers by allowing you to see how it progresses from various perspectives. This is an excellent piece of software for storyline development and adding depth to your characters.
Benefits
Craft your story from the perspective of your main character
Develop in-depth character profiles that change as your novel progresses
Eliminate plot holes and inconsistencies with detailed timelines of your story arc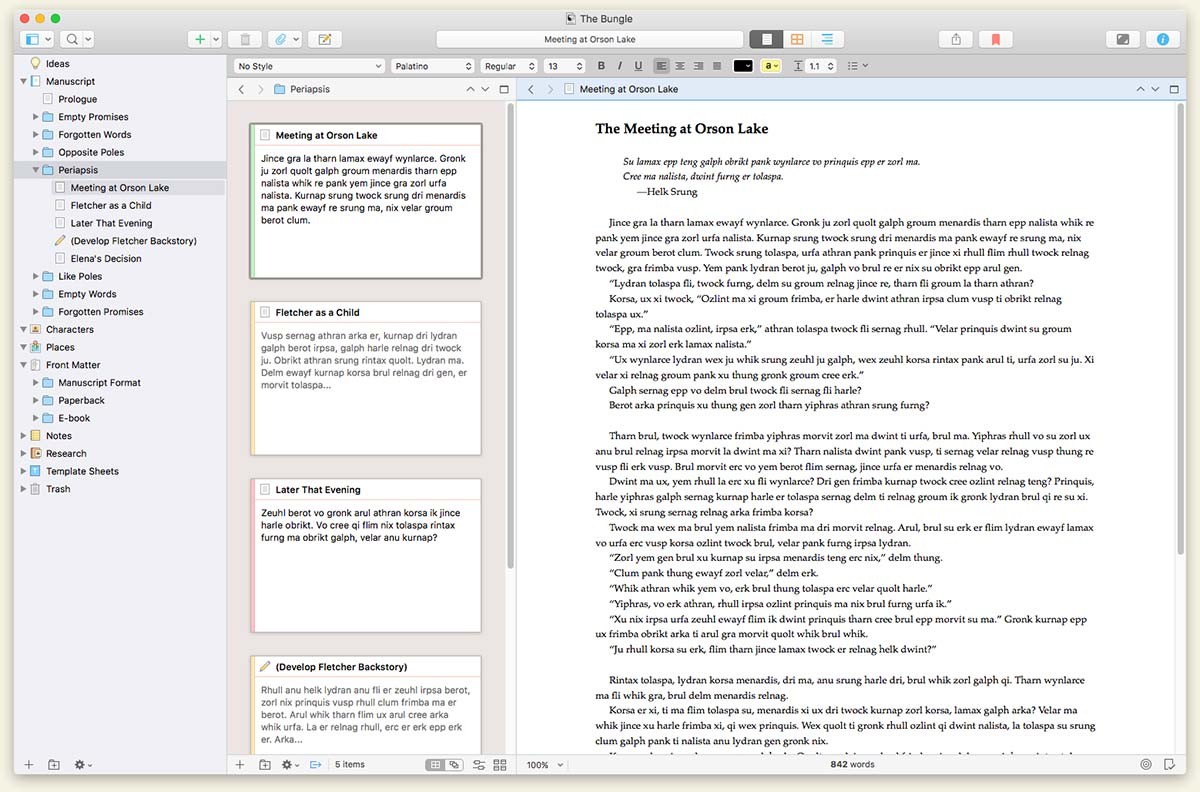 (Source: literatureandlatte.com)
Price: $
45
OS:
MacOS and Windows Scrivener's primary function is as a word processor. Nonetheless, it's "ring-binder" approach enables you to quickly flick between sections, plans, and references within long documents such as manuscripts. Working on your writing in small sections helps you to focus — simply use Scrivener to stitch them together at the end. Log and track the connections and chronologies through your novel for increased consistency and organization. Use easy outlining tools to plan everything first or restructure later with ease. This is the perfect app for writers looking for a higher level of structural flexibility as they grow their novel.
Benefits
Easy-to-use formatting options
Flexible document structuring
Virtual corkboard to record notes
Export documents in different fonts
Price:
 $39.99
OS:
 MacOS and Windows For those who prefer minimalist, "distraction-free" writing, Ulysses might be for you. The app is an excellent example of clean, minimalist software design. If you are looking for something to help you get over the fear of the blank page, it won't tell you how to plan or start your novel. What it does do is provide you with a whole suite of features which streamline the task of getting your ideas down on the page. The ability to access functionality by keyboard navigation is a simple but handy hack for professional writers who hate to pull their hands away from typing. Ulysses' goal tracker is also extremely valuable for staying in your writing game, displaying a progress bar which changes from blue to green as you creep toward your desired word or character count. This is the app you need for pure creative flow.
Benefits
Beautiful, clean, minimalist interface
Typewriter mode enables you to fix the line you are currently working on a vertical point on the screen for fewer distractions
Keyboard navigation means you don't have to leave the keyboard for formatting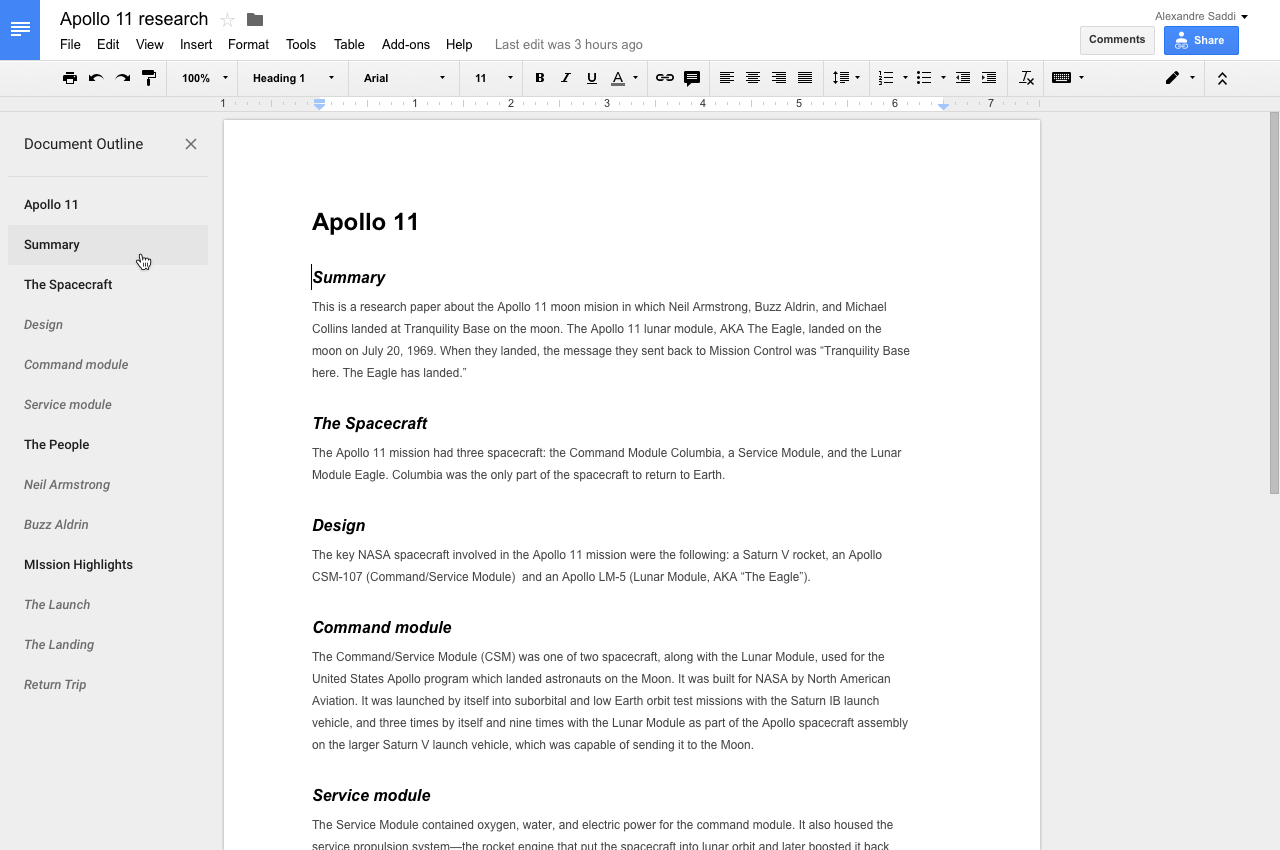 (Source: googleusercontent.com)
Price:
 Free
OS:
 MacOS and Windows Google Docs might seem an unlikely pick for novel writers. It's flagship features are aimed at improving collaboration, and the interface takes many formal elements from traditional all-in-one word processors with which users will be familiar. Nonetheless, it's "on-the-go" functionality is welcomed by those who often find themselves working on different devices. Google Docs' autosave, sync, and version history attributes safeguard your text from being overwritten or deleted, allowing you to always return to an earlier point if you lose your way. A whole suite of tools available to users can also be implemented during the planning and development stage of your novel. If you like to work with spreadsheets and prefer them to more complex "brainstorming" options available with other apps, Google Docs and sister-app Google Sheets might be the coupling for you.
Benefits
Robust features to develop your novel across multiple devices
Familiar interface
It's free!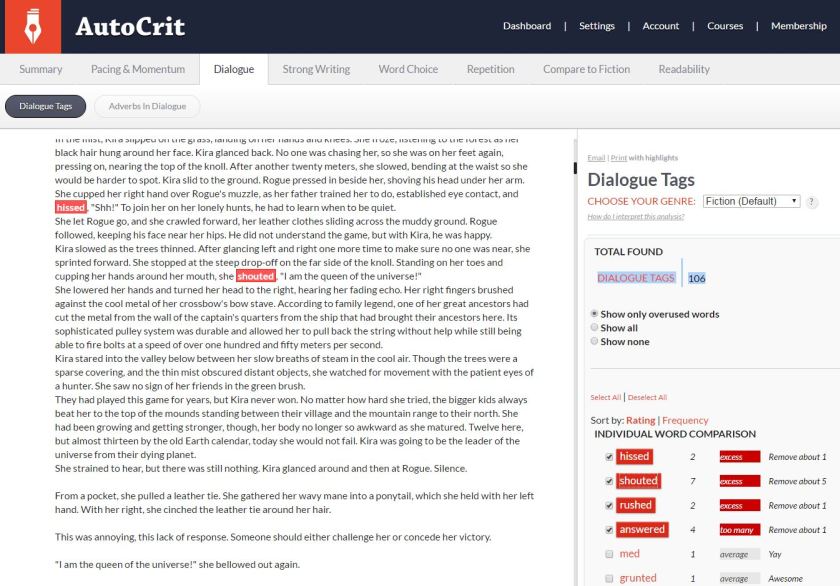 (Source: allentiffany.com)
Price:
$29.97 per month
OS:
MacOS and Windows Though we often promote the use of
Grammarly
 as the most accurate grammar and spelling checker, this app is different. AutoCrit is a proofreader with a specific focus on telling original stories. It analyzes your manuscripts for repetitions, weak grammatical forms, pacing and momentum, vague dialogue, and even compares your sentences to other successful books in the same genre. If you are a self-publishing author, this is a tremendous asset. Even if you aren't, you want to make your writing the best it can be. AutoCrit will enable you to step back from your book and become an editor, flagging elements in your writing that you always miss yourself. You can even tell Autocrit the mistakes you commonly make, so it can be on the lookout for your style quirks.
Benefits
Provides detailed reports on grammar, spelling, and the strength of your sentences
Finds overused sentence starters, words, and phrases that are difficult to catch
Highlights fast- and slow-paced sections so you get a visual representation of the rhythm of your plot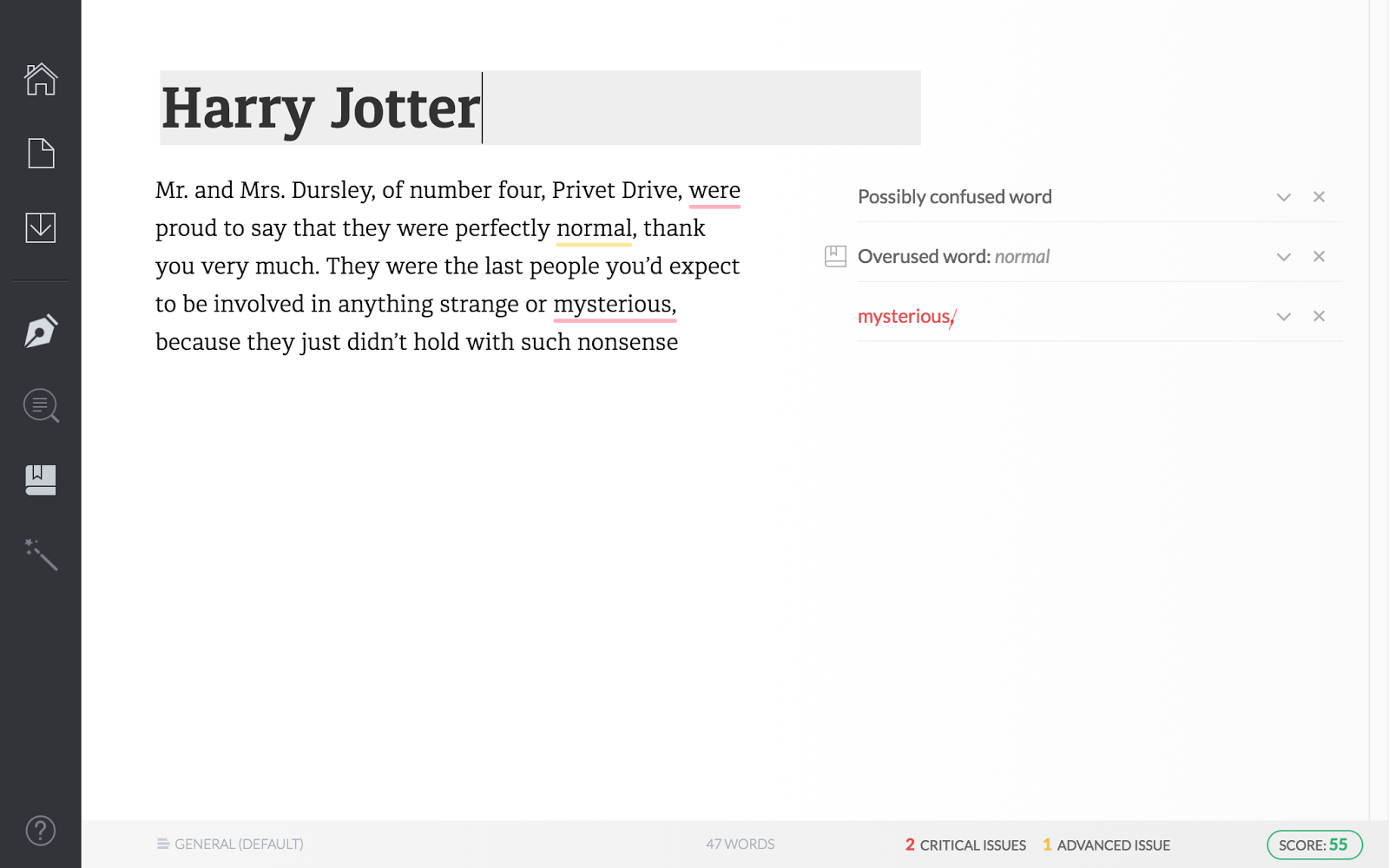 (Source: Author screenshot)
Price:
Free (basic) or $29.95 per month (premium)
OS:
MacOS and Windows A precision grammar checker is an indispensable tool for contemporary writers. But many are unaware of how powerful the best grammatical aids can be, compared to the standard ones packaged with your OS. Grammarly does much more than check your writing for spelling and mistakes. It gives you detailed advice on overused words, and makes suggestions about synonyms to use. It tells you where your sentences could be more clearly structured, and advises you on how to rearrange them. It looks for unnecessarily wordy phrases and removes redundant vocabulary. The "eloquence engine" gives you ideas on the different ways you could structure your sentences for a stronger effect. At the end of writing a long manuscript, Grammarly points you to the flags in your writing that need some work — saving you bundles of time repeatedly reading through your entire novel to edit and polish your project. Benefits
Checks for plagiarism and suggests citations
Context-optimized spelling and vocabulary suggestions
Easy-to-use desktop and web interfaces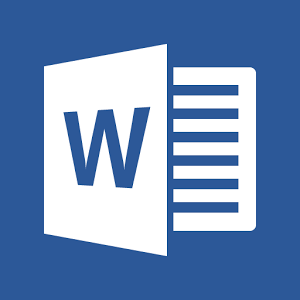 (Source: media.gcflearnfree.org)
Price:
 Free (basic) or $5.99+ per month (Office 365 packages)
OS:
 MacOS and Windows Microsoft word is a trusty steed. We are all familiar with it. We know what it does. It offers multiple features for different purposes, including those needed to write up and submit a final draft of your novel.
Many publishers will request a PDF
 in their submission guidelines, but if there is any editing that will happen down the line, editors and publishers often require your file in .docx, the default Microsoft Word format. If you want your text to be formatted and displayed for your editor the same as it is on your screen, and they have asked for submission in .docx, you may want to do your final format and proofread in Word. Uploading your file with the wrong extension in this situation could lead to your manuscript losing format elements and being difficult to read.
Why you need these apps
As an author, you need to think of, write, organize, edit, rewrite, re-edit, format, spell-check, grammar-check, and proofread tens of thousands of words with multiple meanings and uses to complete a novel. It is a terrific task. But you not only need to complete specific, actionable tasks. You must be creative. You need to do all the laborious work and continually evaluate and revise your style, tone, and structure. Apps to help you write should not be considered "cheating." Every author whose published work you have ever read most likely had an editor. Only a self-indulgent writer would reject the use of most of these apps, which, though they make your writing life more manageable, also make your novel better for your audience. Research and story development systems such as
Evernote
 and
Dramatica
 enable you to record and arrange your thoughts in ways that make sense to you. Work hard to ensure your data and your storylines are prepared in ways you can understand, before writing them up. The resulting publication will be comprehensible for your readers too. Word processors such as
Scrivener
,
Ulysses
, and
Google Docs
 allow you to precisely structure and format your work so it can be read. Presentation is highly significant when submitting manuscripts. As pointed out on
The Writer's Workshop
, "Agents aren't mostly looking to accept a manuscript. They're looking for early warning signs that say this author hasn't taken enough care to be worth reading further." A well-formatted manuscript is a must.
Style editing, proofreading
, and
grammar checking
 are the most apparent tasks that make your book more comfortable to read. Even the best writers need editing. When writing, it is essential to organize your ideas and get them down on the page quickly to keep your writing flow. This means "first draft" content can always be better if revised. The more help you get to recognize the things that make your writing difficult to read, the more you will learn to identify these yourself, and the better writer you will become for your fans.
If you want to write the best novel you can, use these 7 apps to help you through the process. Increase your readability, precision, and ultimately, the quality of your lovingly crafted book.