In the not-so-distant past, self-publishing carried a negative connotation. Printing a book was an act of vanity reserved for authors of sufficient funds and insufficient talent, unable to attract the attention of an established publisher. In the
last ten years
, all that has changed. On November 19th, 2007, Amazon released the first Kindle e-book reader. Despite a hefty price tag of $399, the first generation Kindle sold out in
five and a half hours
 and remained out-of-stock for
nearly six months
. Perhaps this was an early indication of the seismic impact the Kindle e-reader and similar devices would have on the publishing industry and the way people consume books. While everyone in the publishing world from bestselling authors to fabled houses has been affected by the e-book revolution, there's perhaps no segment of the market that has experienced such radical growth as the field of self-publishing. The number of self-published e-books rose by
nearly 2000%
 from 2008 to a high in 2014. While writing a high-quality book that finds traction with an audience is still no easy feat, the barrier to entry to being published is lower than it has ever been.
Here we a take a closer look at selling your e-book and how to get published in 7 easy steps.
1. Write Your E-Book
Nothing can strike fear into an author like the sight of a blank page. When it comes to writing a book, it can be hard to know where to start. One common mistake that budding authors make lies in assuming you have to write your book in order—from start to finish. In fact, many writers find it beneficial to work from a detailed outline. That way, if inspiration dries up in one chapter, you can move onto another section of your book and come back fresh. In the past, you might have gone through several walls full of multicolored Post-It notes diagramming your book. Thankfully now, there's digital help at hand that can make this process much more efficient.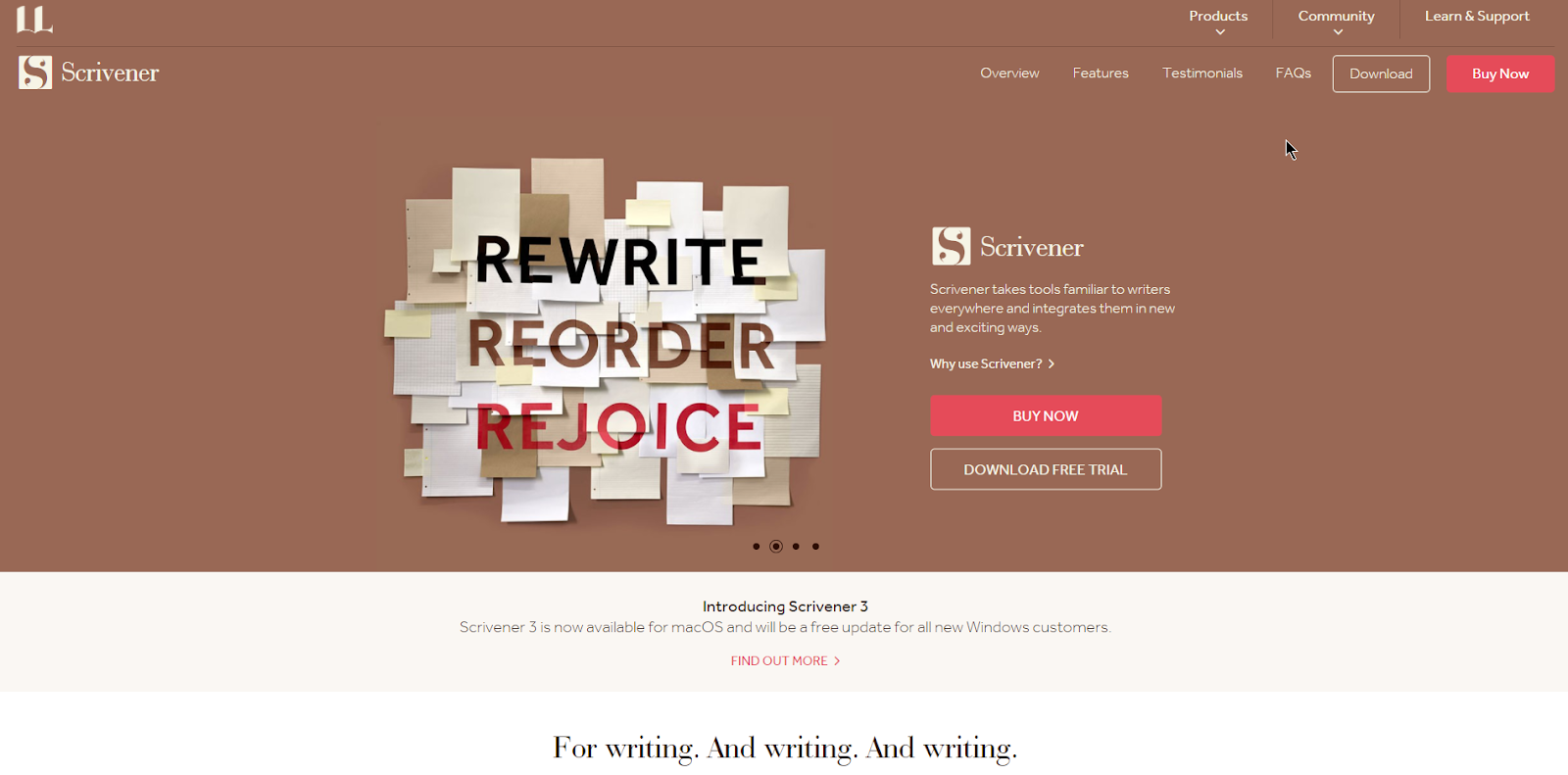 (Source: Scrivener, Author's Screenshot)
Scrivener is a highly regarded writing tool that is available for Mac and Windows. It allows you to keep all your notes, research, even images all in one place. Changing the order of chapters or sections in your book is as easy as drag-and-dropping them to your desired sequence. Whether you're writing the Great American Novel, a screenplay or a non-fiction masterpiece, Scrivener is the writing tool for you. Just take a look at the glowing
testimonials from best-selling authors
 who recommend the use of the software.
2. Research High-Converting Cover Art and Titles
We've all been told not to judge a book by its cover. But in the crowded e-book marketplace, let's face it: That's what consumers do. You can hardly blame them. With
787,000
 self-published titles hitting the marketplace in 2016 alone, appearances matter. Father of modern advertising David Ogilvy
described the importance of headlines
 thusly, "On the average, five times as many people read the headline as read the body copy. When you have written your headline, you have spent eighty cents out of your dollar." When you think about it, the title and cover of your book serve a similar function as the headline. Use them to capture your target customers attention. Amazon and other e-book marketplaces make it easy to research what titles and covers are performing well. Simply check out the bestselling titles in whatever genre your work falls under and look at the sales ranking. Don't neglect the "inside flap" either. With a traditional hardcover book, this is where the synopsis and author bio gos. In an e-book marketplace, your description plays that role. Make that description as enticing as possible. All of this is not to say that what's between the covers doesn't matter, but it pays to make a good first impression. There are several websites that offer you the opportunity to create your own ebook cover.
Canva
 is one.
Fiverr
 is a design marketplace that can match you with an experienced designer at a very low price. Buyer beware though. As with most things, you get what you pay for. You've put a lot of work into your e-book, consider investing more than the bare minimum in its visual identity.
3. Quality Control
One benefit offered by traditional publishing houses that can be undervalued by self-publishers is quality control. Typically a book will be thoroughly vetted for errors and issues of styles by an experienced professional. When you're devoted to getting your creation down on paper, it can sometimes be difficult to maintain perspective on what you're writing. There are a host of free or inexpensive online tools that can help you catch spelling or grammatical errors—
Grammarly
 being one of them. For issues of style,
Hemingway Editor
is a great advisory tool. It can help you catch the overuse of adverbs, passive voice, and highlights sentences that are difficult to understand. Automated spell and grammar checkers are certainly useful tools, but when it comes to readying your book for publication, there really is no substitute for another pair of human eyes. If you're not lucky enough to have someone with an affinity for matters of style and structure, consider hiring a professional.

(Source: Author's Screenshot)
Founded in 1997,
Scribendi
 is a highly regarded proofreading and editing service. Their team of native English specialists numbers more than 300 worldwide.
4. Selecting a Platform
When all your hard work has paid off, and you're ready to publish, you have a plethora of options. You can set up a
Shopify digital download store
 which undoubtedly gives you the greatest control over everything from pricing to how your work is presented. However, unless you already have an audience, and a way of reaching them through your marketing efforts, you will likely struggle to attract buyers to your site. Another option is Amazon's Kindle Store—the dominant player in the e-book market. The Kindle Store's popularity comes at a price. One of those is the flexibility to set your own pricing. To receive the Amazon's top royalty rate of 70% in key territories, you must price your book between
$2.99 and $9.99
. Amazon's highest tier of royalties in global markets like Japan and Brazil is reserved for authors who enroll in Amazon's
KDP Select program
. To be eligible for KDP Select, your book must be exclusively published by Amazon for the duration of the program. Enrollment in KDP Select also means that your book will be available free to subscribers of
Kindle Unlimited
. You will then be paid a royalty based on the number of pages read of your book over a given period. While the lure of the Kindle Store may be hard to resist, there's no need to put all your eggs in one basket. Unless you've opted to enroll in KDP Select, you're free to sell your e-book on a wide range of other platforms. Managing relationships with vendors can be time-consuming, so many authors choose to work with e-book distributors. Three of the best, each with different revenue models are
Lulu
,
Draft2Digital
 and
Smashwords
.
5. Format Your E-Book
Now that your manuscript has been vetted for grammar and style, and you're ready to publish, the next step is formatting your book. Most of the platforms listed above including
Kindle
,
Lulu
 and
Draft2Digital
 have apps to help you format your epub, or they offer to do it for you based on your instructions. Scrivener also has extensive
e-book formatting functionality
 built-in. If you see the value of having a beautifully designed and laid out e-book, be sure to check out
Vellum
. It's only available for Mac currently, but the other tools mentioned above will help you get the job done if you're a Windows user. If you'd prefer to leave the task of formatting to a professional, Scribendi also offers
e-book formatting
 amongst its services.
6. Protect Your E-Book - EditionGuard and Blasty
After all that hard work, you're finally ready to introduce your e-book to its vast potential readership. But what's to keep an unscrupulous website or plagiarist from copying your work or offering it for free? Giant e-book retailers such as Amazon, Apple, and Barnes & Noble have
their own ways
 of dealing with this challenge. It's called Digital Rights Management or DRM, for short. DRM severely restricts the ability to make copies of a protected work. Amazon, Apple, and Barnes & Noble sell devices as well as e-books, and DRM is a built-in part of Kindles, iPads, and Kobos. Any books sold on these platforms will, by default, have DRM protection built in. But what if you're making your book available on your own website or through other platforms that don't offer default DRM functionality? For some years, the standard DRM protection for e-books has been provided by Adobe. It enables the distribution of encrypted, rights-protected e-books to a myriad of reader devices and apps. Up until recently, however, licensing and other costs for Adobe DRM were prohibitively expensive for individual authors or small e-book retailers. EditionGuard has changed all that. We've leveled the playing field by making Adobe DRM available at a
fraction of the regular cost
. In addition to offering Adobe DRM, EditionGuard also offers EditionMark. EditionMark "watermarks" your e-book by embedding the purchaser's personal information into the file. Watermarking makes it easy to uncover the source of duplicated files. It is often called "social DRM" because of the embarrassment or potential litigation that could arise from a purchaser being revealed as someone who makes illegal copies of copyrighted works. Another way you can check if your book is being offered for download illegally is to conduct a simple Google search of your title or a unique piece of text. This will reveal sites that claim to have your book available for download. It's what you do once you have that information that can be time-consuming. Consider using a service like
Blasty
.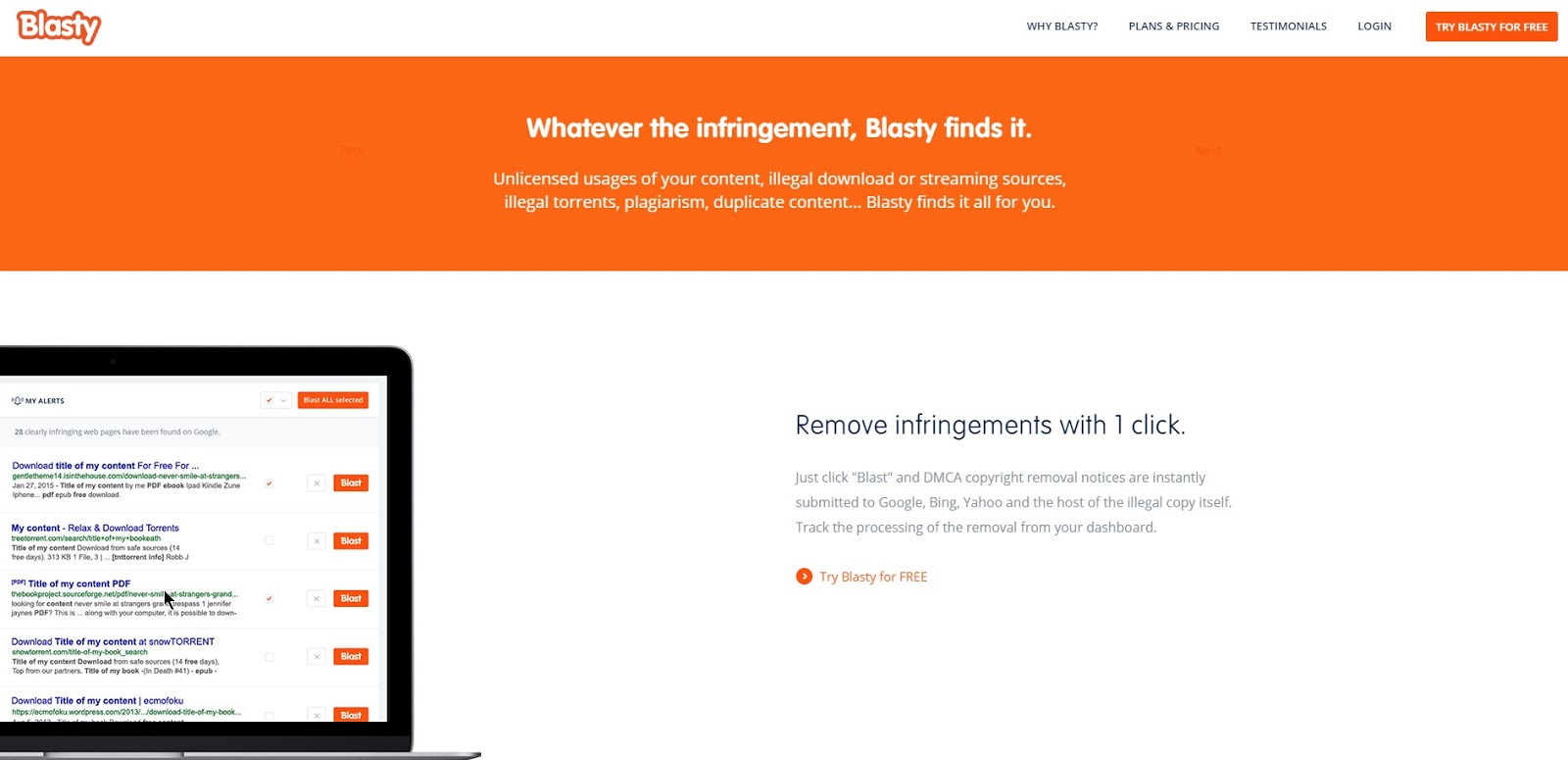 (Source: Author screenshot)
Blasty monitors Google and other search engines and sends you an alert whenever it finds an instance of plagiarism or other infringement of your intellectual property. Best of all, it automatically sends a
DMCA
 notice to all of the major search engines as well as to the hosting company for the site that has pirated your content. Considering the administrative headaches that Blasty can save you, its pricing is
very reasonable
. After all, shouldn't be writing your next book?
7. Market Your E-Book
Before you get too deep into your next writing project, make sure you're doing everything you can to make your current one a success. After all, there's there's little point in publishing a book without letting as many people as you can know about it. One of the most important things you can do at first is reach out to your network. Ask them to review the book on the platforms where it appears. Hopefully, the reviews will be positive ones. Reviews are a great way of building momentum and social proof for your book. If you get consistently good reviews, depending on the platform, your book may be recommended to readers of similar books. One way to generate more reviews for your book is to use
Story Cartel
.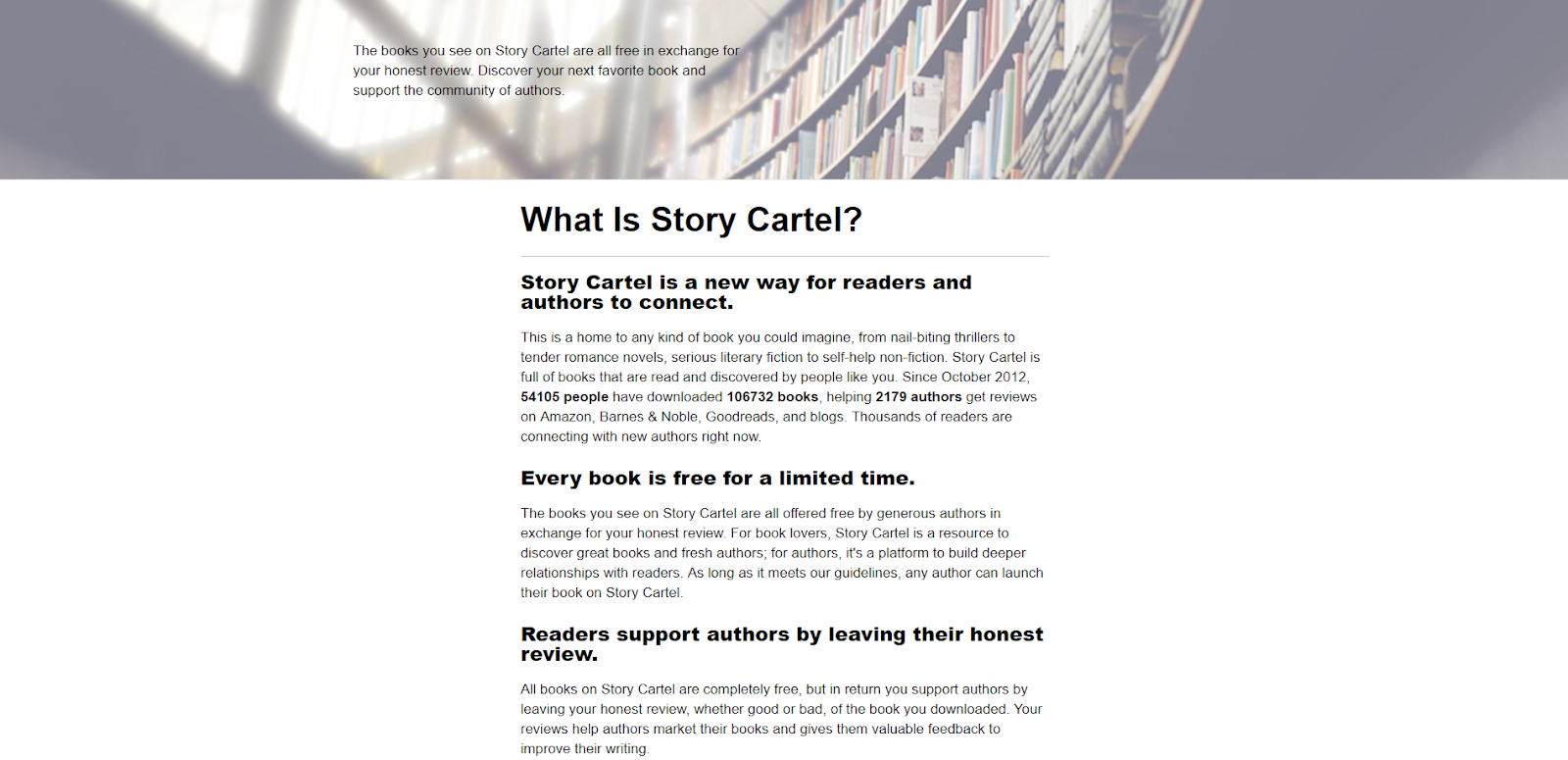 (Source: Author screenshot)
Story Cartel is a platform for authors to share their book with reviewers for free, for a limited time. In exchange, the reviewer agrees to leave an honest review on Amazon, Good Reads, or a host of other e-book platforms. This is great not only for getting your book in front of more readers, but also receiving unvarnished feedback from people who love to read, and to write reviews. Also, don't forget the power of social media. Depending on the genre you're writing in, there is probably a dedicated Facebook group that celebrates it. Not surprisingly, there are thousands of general writing groups on Facebook. These can be a great place to network with fellow authors, share marketing strategies, and exchange constructive criticism of each other's work.
The End of the Beginning
We hope you have found this seven-step breakdown of how to sell an e-book to be of use in your quest to become a published author. No one will ever say that writing a book is easy, but it is certainly true that
publishing
 a book has never been easier. Here's a brief recap - number one being the hardest but also likely the most rewarding:
Write Your E-Book
Research High-Converting Covers and Titles
Quality Control
Select a Platform
Format Your E-Book
Protect Your E-Book
Market Your E-Book
Follow these steps, and you will be a published author before you know it.