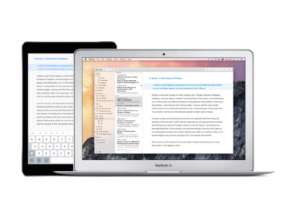 Many of the indie author tools we recommend are ideal for any writer, but Ulysses III is specifically designed for the Mac/Apple/iPad writer, so if you are a Mac user and need an organizational tool to accelerate your fiction-writing efforts, the Ulysses III app may be the perfect solution.
Ulysses III
, available in the Apple App Store, is "a powerful tool made for writers – whether you're an author, a journalist, or a student." Ulyssess is designed to create a distraction-free writing environment for the writer. Of course, you can help by shutting down notifications from Facebook while you write, but it does provide a clean, clear backdrop for your imagination.
David Hewson
says, "Writing is hard. Software should make it less so. Ulysses really does." Hewson describes Ulysses this way:
Writing full screen in Ulysses is what really sold me on the app. Somehow it's as near as dammit to owning a very clever digital typewriter. All you see are your words, presented clearly and simply. Nothing tempts me to step away from them unless I make the very conscious decision to retreat out of the current page and back into the structure of the book. For me that means I write. Very easily sometimes, when with other apps I might be tempted to stray into tinkering. I do this for a living. Productivity counts, and Ulysses delivers it in spades.
We'd love to hear from Apple users who have tried Ulysses. Comment below or message us on
Facebook
 to let us know what you think of Ulysses and what your favorite indie author tools are.
Image credit